Nuts & Bolts for Nurse Educators
Evidence-Based Teaching & Learning
August 1-2, 2013 • Minneapolis, Minnesota
---
Any seasoned nurse educator will tell you that nursing education is a calling. It requires a foundation of evidence-based teaching strategies, a little creativity, and a commitment to excellence in order to be the most successful. During the 6th annual Nuts & Bolts conference, you will not only hear strategies from some of the top nursing educators in the country, but you will work alongside them to improve your classroom, clinical, and lab learning environments. This year's focus on evidence-based teaching will help with every course in the curriculum. Hands-on activities help you master practical strategies for teaching and learning in fundamentals, maternal-child, medical-surgical, health assessment, and much more. Free Wi-Fi will be available.
Conference Objectives:
Upon completion of the conference, the participant will be able to:
Develop evidence-based connections between clinical, simulation, and classroom learning.
Create classroom and clinical learning activities that promote clinical reasoning.
Develop evidence-based learning experiences based on the NCLEX® client needs.
Identify assessment strategies that provide valid, reliable data for program development.
Identify factors that create barriers to student success in the classroom and on NCLEX®.
Analyze evidence-based tools for developing a culture of student success.
Describe proven strategies to support faculty and curricular success.
Manage educator workload to enhance performance.
Tool Box With a Purpose
Back by popular demand! This year the Tool Box will have over 100 tools mapped to the NCLEX® Test Plan and the QSEN Competencies. These ready-to-use tools help educators quickly implement evidence-based learning strategies that engage learners. Start the first day of classes with the tools you need to help your students excel.
Target Audience
This conference is designed for clinical instructors, nurse educators and administrators in PN/VN, ADN, diploma, and BSN programs. Because of the active learning focus, other health care educators will benefit as well.
Attire
Business-casual attire is appropriate for the conference. Please note that the temperature in the meeting rooms varies; dress in layers to ensure your comfort.
Call for Posters
Submit by July 1, 2014.
Consider submitting a poster related to nursing education or an evidence-based clinical study with implications for nursing education. Abstracts will be peer-reviewed and notification of acceptance will occur by July 15. For complete poster presentation guidelines, you may download the guidelines. For questions, please email dbroda@nursetim.com or call 952.423.8659.
Nursing Contact Hours
Up to 23.5 hours of nursing continuing education will be awarded upon completion of CE criteria.
6.0 Pre-Conference A — The New Certified Nurse EducatorCM (CNE) Exam Test Blueprint
3.0 Pre-Conference B — Know White and Her Seven Learners +1
3.0 Pre-Conference C — Best Practices in Clinical Teaching
2.0 Pre-Conference D — 5 Strategies for Accreditation Success
11.0 Main Conference — Nuts & Bolts for Nurse Educators (2 days)
1.0 Poster Voting (main conference)
3.5 Post-Conference E — Test Item Writing: The NCLEX® Connection
NurseTim, Inc. is accredited as a provider of continuing nursing education by the American Nurses Credentialing Center's Commission on Accreditation.
CE completion criteria includes: payment of conference fee, attendance of the entire session, and submission of a completed evaluation tool.
All faculty and planners at nursing continuing education activities are required to disclose to the audience (1) any significant financial relationships with the manufacturer(s) of any commercial products, goods or services and (2) any unlabeled/ unapproved uses of drugs or devices discussed in their presentations. Such disclosures will be made in writing in the course presentation materials.
Conference Speakers
Hilda Alcindor, BA, RN
Faculté des Sciences Infirmières—Leogane, Haiti
Coming Soon.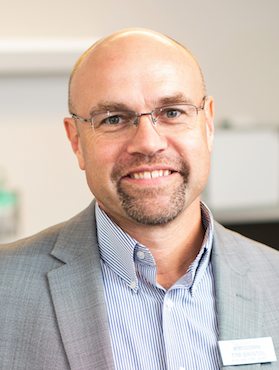 Tim Bristol, PhD, RN
Walden University—Minneapolis, Minnesota
Tim is an internationally known nurse educator and educational consultant. He has taught at all levels of nursing in both public and private institutions. He has also consulted with the healthcare industry through public health, global health, acute care, long-term care, and professional trade organizations. Sharing his expertise through a number of written works on adult learning, instructional design, curricular innovation, and faculty development, he is known for a practical, straight- forward approach to academic success. Dr. Bristol is owner of NurseTim, Inc. and faculty at Walden University and serves on the board of directors for Health eVillages and the FSIL Nursing School in Leogane, Haiti.
Michele L. Deck, MEd, BSN, LCCE, FACCE
G.A.M.E.S./Tool Thyme for Trainers
Michele is known for her innovative teaching methods in the field of health care education and training. She has been training educators and trainers full time for twenty-two years. She has won the "Excellence in Nursing" award, has been selected as one of the "Great 100 Nurses of Louisiana" and was also elected to the Sigma Theta Tau National Nursing Honor Society. The National Nursing Staff Development Organization named her the recipient of the prestigious Belinda Puetz award in 2000. She was named "Business Woman of the Year" in 2003 and 2004 by the National Business Council.
Sue Field, DNP, RN, CNE
Northland College
Coming Soon.
Judith A. Halstead PhD, RN, ANEF, FAAN
Indiana University School of Nursing
Judith is a professor of nursing at Indiana University School of Nursing and serves as the director of the Office for Online Education for Indiana University. She has over thirty years of experience in nursing education, with expertise in online learning, nurse educator competencies, and evidence-based teaching in nursing education. She is co-editor of the widely referenced book, Teaching in Nursing: A Guide for Faculty. Dr. Halstead has received numerous awards for her leadership in advancing the science of nursing education. She is a fellow in the NLN Academy of Nursing Education and the American Academy of Nursing. Her work in promoting excellence in nursing education is widely disseminated nationally and internationally in over 50 publications and 100 presentations. She served as the president of the National League for Nursing from 2011-2013.
Susan Hendricks, EdD, RN, CNE
Indiana University
Dr. Susan Hendricks has been a nurse since 1983, receiving a BSN from the University of North Dakota and an MSN from the University of Wisconsin, and has specialized in community mental health nursing. As an IU faculty member Dr. Hendricks has focused her academic career on curriculum, evaluation, student success, and the study of innovation in nursing education. In recent years she has taken on increasing leadership roles, including evaluation director, assistant dean, and chair of the IU statewide curriculum committee that developed the RN to BSN curriculum. Currently the associate dean for undergraduate programs at IUPUI, Dr. Hendricks has engaged faculty in planning and implementing an exciting new concept- and competency-based curriculum.
Judith W. Herrman PhD, RN, ANEF
Judy is a nurse educator with a passion for adolescents, nursing education, and creative teaching strategies. Experiences in pediatric staff nursing, nursing management, and nursing education provide contexts for current practice as a nurse educator, nurse researcher, and national speaker. Judy is actively involved in research related to adolescent decision- making and sexuality, interpersonal violence prevention, and teaching strategies focusing on age-related learning. Publications in many and varied journals disseminate results to varied audiences. Judy is currently the Chair of the Delaware State Teen Pregnancy Prevention Advisory Board, a member of the Senate Appointed Teen Dating Violence Task force, and is the Chair of the Delaware Girls Initiative, an advocacy group dedicated to the needs of girls at risk in the state. Authoring the book Creative Teaching for the Nurse Educator has provided Judy with the opportunity to share strategies around the nation and learn from other faculty.
J. Raney Linck, MS, RN
University of Minnesota
Coming Soon.
Susan Luparell, PhD, ACNS-BC, CNE
Montana State University
Susan Luparell is a nationally recognized speaker and author on the topic of incivility in nursing education. An associate professor at Montana State University, Susan is involved in both the baccalaureate and graduate nursing programs and has received several commendations for excellence in teaching. Her scholarship focuses on the ethical implications of incivility, including how it affects others and how it can be managed in academic as well as in clinical settings. Prior to joining the faculty ranks, Susan practiced as a critical care clinical nurse specialist.
Barb Schreiner, PhD, RN, CPLP, CDE, BC-ADM
Elsevier, Inc.
Dr. Barb Schreiner's career has been a blend of clinical practice, education, research and performance improvement. She is currently the Director of Research for Review and Testing at Elsevier and is involved in studying the predictive properties of HESI review products. She also has thirty-five years' experience teaching in both clinical and academic environments and is an adjunct faculty professor in the graduate nursing programs with Capella University. Dr. Schreiner has a master's degree in nursing from the University of Florida where she also minored in adult education. She has a PhD in education from Capella University where she specialized in training and performance improvement. She holds a board certification in Advanced Diabetes Management (BC-ADM), is a Certified Professional in Learning and Performance (CPLP), and is a Certified Diabetes Educator (CDE).
Karin J. Sherrill, MSN, RN, CNE, CHSE, ANEF
Mesa Community College
Karin J. Sherrill is a nurse educator with over twenty years of teaching experience at Maricopa Community Colleges in Arizona. During her teaching tenure, she has been involved with multiple projects including online education, informatics development, active teaching strategies, new grad transition to practice, and the integration of classroom, lab and simulation technologies. She teaches third-semester nursing students in the classroom and simulation lab along with facilitating student success courses throughout the curriculum. Karin currently serves on the Maricopa Nursing Testing Committee, the T.I.G.E.R. Informatics Education Committee, and is the president of the Arizona League for Nursing. Karin has consulted for the National League for Nurses Testing Services, National Council State Board of Nursing, and several publishing companies. She is a member of the Arizona and National League for Nursing, the Arizona and American Nurses Association, the National Organization for Associate Degree Nursing, the International Nursing Association for Clinical Simulation & Learning, the Society for Simulation in Healthcare, and was founding president for the Arizona Simulation Network.
Virginia Wangerin, MSN, RN, CNE
Upper Iowa University
Virginia "Ginny" Wangerin, PhDc, MSN, RN, CNE is an educator, consultant, and speaker with over thirty years experience in nursing. She also taught the PN, ADN, BSN and graduate level, currently teaching in an RN-BSN program and providing faculty/staff development. Her primary areas of expertise are curriculum development and evaluation, including teaching and evaluation strategies and accreditation success. Ginny has served on numerous committees and boards, advocating for others including nursing professionals, the elderly, and at-risk populations. In October 2011 she was honored by the Iowa Nurses Association with the Edith Ruppert Award, in recognition of having contributed significantly to the improvement of nursing and the professional organization.
Mary Judith Yoho, PhD, RN, CNE
Chamberlain College of Nursing
Dr. Mary Judith Yoho is the president at Chamberlain College of Nursing, Houston Texas. In her over thirty-five years in nursing, Dr. Yoho has held roles in nursing practice, instruction, research, management and education policy. Prior to joining Chamberlain College of Nursing, she was the National Director of Faculty Development for Education Affiliates and for Elsevier Review and Testing. Throughout her career, she has coordinated and participated in multiple grant projects and has authored and co-authored ten publications on topics including student testing and faculty recruitment and retention. Dr. Yoho has presented nationally and internationally on the topics of test development and exam analysis. She is a National League of Nursing (NLN) Certified Nurse Educator (CNE).
Lodging
Hilton Minneapolis Airport/Mall of America
3800 American Blvd East • Bloomington, MN 55425
(free shuttle from MSP airport to hotel)
The Hilton is conveniently located minutes from the Mall of America and next to the beautiful Minnesota Valley National Wildlife Refuge.
For reservations:
Call 952.854.2100 or toll-free 800.445.8667
Online: Hilton Minneapolis Airport
Rates:
$119 single/$129 double + 14.28% tax
A block of rooms has been reserved under Nuts & Bolts for Nurse Educators until July 1, 2013. To ensure group room pricing, register early before the room block is full. Complimentary internet access provided in all guest rooms.
Participants are responsible for their own hotel reservations and should make payments for lodging and other hotel services directly to the Hilton Minneapolis Airport/Mall of America.
---
Attractions
Mall of America
60 East Broadway
Bloomington, MN 55425
Mon-Sat: 10am–9:30pm Sun: 11am–7pm
Free shuttle from the Hilton!
Mall of America has been described as a city within a city. Along with an extensive range of shops, restaurants, and entertainment, there are many unique features to Mall of America likely to be found in any community. Mall of America is one of the top tourist destinations in the country, so grab a free shuttle and explore over 500 stores and miles of walkway! Find more atmallofamerica.com.
Minnesota Valley
National Wildlife Refuge
Located adjacent to the
Hilton Minneapolis Airport Hotel
Open daily—sunrise to sunset
Over 8 miles of scenic trails!
The Minnesota Valley National Wildlife Refuge is one of only a handful of urban wildlife refuges in the nation, a place where eclectic wildlife lives next door to three million people. Today, the refuge comprises over 14,000 authorized acres, stretching for 34 miles — many of which have trails and interpretive signs. Take a morning or evening hike and explore the beautiful sights located just steps from the conference!
Haiti
Hiking for
Haiti Nursing Students
NurseTim's team is committed to giving back. For over six years, Dr. Bristol has worked in Haiti with Haitian nursing faculty and students. This year you can help! Every Nuts & Bolts participant gets a pedometer.
NurseTim will give one dollar for every 1000 steps to the Haiti Nursing Foundation.
Whether you are hiking the Mall of America or the National Wildlife Refuge, your steps will help nursing students in Haiti.
Agenda
The complete agenda can be downloaded and printed out from the brochure. For descriptions of each session please click on the Sessions button on the right.
Sessions
Sessions Menu
Pre-Conferences (July 31)
The New Certified Nurse EducatorCM (CNE) Exam Test Blueprint

Mary Judith Yoho, PhD, RN, CNE
8:00-4:45 (Full day session—lunch provide)
This workshop provides an overview and review of the major topic areas included in the detailed test blueprint of the Certified Nurse EducatorCM Exam. The attendees will become familiar with the organization of the exam and all the major topic areas. Emphasis will be placed on preparing for the exam, with strategies for understanding the competencies. Practice questions and group activities will be used throughout.
Learning Outcomes:
Understand research evidence that supports active learning techniques for more meaningful teaching.
Experience and reflect upon a "lesson" that both deepens their understanding of active learning and invites them to critique and expand upon the concept for their own teaching.
back to menu
---
Know White and Her Seven Learners +1

Michele L. Deck, MEd, BSN, LCCE, FACCE
8:00-11:15
Have you ever wondered how to make content memorable for your learners? Have you noticed that there are several different ways to reinforce important information for your learners? Let "Know" White introduce you to her eight learners. In this session you will learn to assess someone's primary learning style in less than 60 seconds.  Learn some innovative methods to appeal to each style of learner.
Learning Outcomes:
Understand research evidence that supports active learning techniques for more meaningful teaching.
Experience and reflect upon a "lesson" that both deepens their understanding of active learning and invites them to critique and expand upon the concept for their own teaching.
back to menu
---
Best Practices in Facilitating Clinical Learning:
Trying Out Strategies That Work

Susan Hendricks, EdD, RN, CNE
1:30-4:45
Multiple forces in nursing education are calling for transformation of our clinical learning environments for pre-licensure nursing students. This pre-conference workshop serves as a strong overview of best clinical education practices, with many opportunities for faculty to "try out" new approaches, both from the educator and learner point of view. In this interactive session, nursing faculty will discuss best practices in clinical education with a basis in relevant learning theory and nursing evidence. Nursing faculty will have the opportunity to "be" the learner and "be" the teacher as we try out multiple learning experiences. Particular focus areas will include active learning strategies, conceptual learning strategies, developing clinical judgment, developing reflection through storytelling, and student evaluation.
Learning Outcomes:
Understand research evidence that supports active learning techniques for more meaningful teaching.
Experience and reflect upon a "lesson" that both deepens their understanding of active learning and invites them to critique and expand upon the concept for their own teaching.
back to menu
---
5 Strategies for Accreditation Success – Expert Panel, Dinner, Collaboration

6:00-8:30
This event will help your team focus on your accreditation process. Whether your team is preparing for initial accreditation/reaccreditation, approval/reapproval, a focused visit, or data collection for an upcoming self-study, you won't want to miss this important panel discussion. Emphasis will be on your connections with others (faculty, stakeholders, students, et al.) and management of large amounts of data.
Professional (NLNAC/CCNE) – State Board of Nursing
Regional Accreditations (HLC-NCA, SACS, etc.)
Self-study; interim reports; systematic evaluation; substantive changes
Includes: dinner, decadent dessert, two hours participation, +2 contact hours
Learning Outcomes:
Understand research evidence that supports active learning techniques for more meaningful teaching.
Experience and reflect upon a "lesson" that both deepens their understanding of active learning and invites them to critique and expand upon the concept for their own teaching.
back to menu
---
Day 1 (Aug. 1)
The Evidence Base of Active Learning: With Exemplars

Judith A. Halstead, PhD, RN, ANEF, FAAN // Tim J. Bristol, PhD, RN, CNE, ANEF
8:15-9:45
The keynote speakers will provide  an  engaging tour of active learning.  Looking to clinical reasoning as the ultimate goal of all nursing students, faculty are challenged with classroom, lab, and clinical strategies to help facilitate their growth. The learning environment needs to promote a culture of learning how to learn. The evidence base is abundant in support of these strategies. To make the evidence base of active learning real, a number of active learning exemplars will be used.
Learning Outcomes:
Apply evidence-based practice in education to improve nursing education at all levels.
Create an active learning strategy that can be used with nursing students.
back to menu
---
The Evidence Base of Student-Centered Classrooms: With Exemplars

Judith A. Halstead, PhD, RN, ANEF, FAAN // Tim J. Bristol, PhD, RN, CNE, ANEF
10:15-11:45
This keynote address will give first-hand experience with the student-centered classroom. From building  an effective lesson plan  to creating simulations that work, ensuring that the learners own their growth is essential. During the keynote, participants will have an opportunity experience the difference between faculty-centered and student-centered classrooms.
Learning Outcomes:
Differentiate between a faculty-centered and student-centered classroom.
Develop a student-centered lesson plan.
back to menu
---
Breakout Session 1

1:00-2:15
Retention Success From Fundamentals to Finals – Part 1
Virginia Wangerin, MSN, RN, CNE
Programs are called on to retain students from day one through graduation, while assuring that graduates are prepared to enter the profession and pass the NCLEX® exam. This 2-part session will explore the challenges, strategies and resources for enhancing student success at multiple points from admission through the final course. Participants are encouraged to bring ideas and challenges for sharing.

Note: Sessions 1A & 2A are intended to be taken in sequence.
---
Simulation — Interprofessional Success
Karin J. Sherrill, MSN, RN, CNE, ANEF
Teamwork and collaboration. We've all heard about it, but how do we create an environment of teamwork when students mostly 'observe' the process in the clinical setting rather than participate with active collaboration?  Simulation provides the ideal setting for students to par-ticipate in interprofessional collaboration.  It's safe, non-intimidating, and supportive — but mostly, it can be fun.
---
Concept-Based Curriculum: Taking the First Steps
Susan Hendricks, EdD, RN, CNE
Making a curricular change toward a concept-based curriculum involves many steps. In this session, consider strategies for negotiating a successful curriculum change project, including visioning, defining the scope of the project, and building capacity for concept-based teaching and learning. Explore several approaches to curricular change, including melding concepts into an existing curriculum versus building a new curriculum, and some of the first steps to get started.
---
The Evidence Base for Standardized Testing in Nursing Education
Barb Schreiner, PhD, RN, CPLP, CDE, BC-ADM
This session will summarize the existing decade of research underpinning the use of standardized testing. Participants in this session will leave with an understanding of the evidence behind standardized tests, an awareness of the benefits and pitfalls of such tests, and an appreciation for the role of testing in program outcomes.
back to menu
---
Breakout Session 2

2:45-4:00
Retention Success From Fundamentals to Finals – Part 2
Virginia Wangerin, MSN, RN, CNE
(See 1A)

Note: Sessions 1A & 2A are intended to be taken in sequence.
---
Data for Program Success: From the Classroom to Accreditation
Sue Field, DNP, RN, CNE
This session will provide participants with ideas on how to efficiently and effectively collect data required  for accreditation bodies (ACEN and CCNE). Emphasis will be placed on identifying essential data (student, alumni, employer satisfaction surveys, program completion rates, NCLEX® results, and placement rates), collecting the data, managing the data and reporting on the data. Examples of surveys, methods to collect and track the data, and means of reporting the data to make improvements to your program will be reviewed.  All are encouraged to bring samples to share and discuss.
---
Simulation – Simulation and NCLEX
An Evidence Base for Practice
Karin J. Sherrill, MSN, RN, CNE, ANEF
Simulation has advanced from a simple learning tool to an effective way of performing detailed evaluations.  Structuring simulation curriculum around the NCLEX® blueprint, debriefing with NCLEX® and evaluating with NCLEX® as your simulation curricular backbone provides a solid evidence-based strategy to improve your program outcomes.
---
Service Learning:
At Home and Abroad
Hilda Alcindor, PhD, RN, FAAN
Knowledge, skills, and attitudes for professional nursing require a sense of ownership in the world in which we live. From the social ills of the inner city to the plight of the impoverished on a global scale, nursing students and faculty need experiences that help them develop a sense of civic responsibility. This panel will discuss learning strategies with lifelong implications.
back to menu
Day 2 (Aug. 2)
Breakout Session 3

8:15 - 9:30
Incivility in Nursing Education:
Four Reasons Why We Should Tackle This Beast
Susan Luparell, PhD, ACNS-BC, CNE
Are you ever left speechless by the inappropriate behavior of some students? Do you ever feel as though your hands are tied in trying to address it? Incivility in the learning environment may well be one of the most frustrating challenges we face as faculty. In this interactive session you will be enticed to take a more proactive stance in fostering civility in your own environment.
---
Evidence-Based Practice as a Theme in the Undergraduate Curriculum
Judith W. Herrman, PhD, RN, ANEF
Undergraduate curricula, course content, and teaching methods are often based on personal experience, tradition, and currently available research. There is a dearth of evidence that undergirds the foundations of nursing education. This session presents selected curricular models, key curriculum components, and accompanying research and evidence that may augment nursing education.
---
iPads, Tablets, and Handhelds:
A Hands-On Exploration of the Evidence Base!
J. Raney Linck MS, RN
Keeping clinical reasoning as the central theme, we will explore the use of mobile devices in education. This hands-on session will give participants an opportunity to experience strategies that have proven effective in all levels of education and practice. From active learning to assessment and professional practice, the power and pitfalls of these devices will be addressed. (Bringing a device is welcomed, but not required.)
---
QSEN Across the Curriculum
Tim J. Bristol, PhD, RN, CNE, ANEF
The Quality and Safety Education for Nurses Project offers faculty a framework that promotes growth in clinical reasoning. Using the six competency domains, we will consider relevant learning activities across the curriculum. We will explore assumptions, active learning strategies, and assessments that promote growth in the knowledge, skills, and attitudes required of the nurse in today's healthcare industry.
back to menu
---
Breakout Session 4

10:00-11:15
Preventing Incivility in Your Classroom:
Six Strategies for Taming the Beast
Susan Luparell, PhD, ACNS-BC, CNE
Have you ever been flummoxed by inappropriate student behavior, having been caught so off-guard that you were unable to respond in a meaningful way? If so, you are not alone! Many faculty feel ill-prepared to manage the challenging student situations that arise from time to time in nursing education. In this interactive session, you will learn strategies to enhance civility in the classroom that you can begin implementing immediately. Techniques designed to set the overall expectation for civility, as well as methods for giving constructive feedback about inappropriate student behavior, will be shared.
---
Research Classes That Work
Judith W. Herrman, PhD, RN, ANEF
Research is a challenging topic to bring to life for nursing students. Although an appreciation and understanding of evidence-based practice is vital for nursing practice, nursing students do not always see this material as essential to their education. Creative strategies designed for nursing research education will be presented to enhance learning and application to nursing practice.
---
Grading Written Work – Less Pain, Greater Purpose
Virginia Wangerin, MSN, RN, CNE
Graduating nurses need to enter the workforce prepared to communicate effectively. Superlative writing is important for effective teamwork, quality improvement, and daily communications within health care teams supporting safe patient care. Grading essays, research papers and other written assignments is an important skill for all faculty to master. Strategies to improve student writing while maximizing faculty time investment will be presented.
---
ESL and Diversity: Helping Students Succeed
Karin J. Sherrill, MSN, RN, CNE, ANEF
The growing diversity of our student population provides a variety of perspectives within that population, but also more challenges for our educational toolbox.  This session will look at the evidence for best practices for meeting the needs of our diverse population to maximize student success. 
back to menu
---
Creating Teaching That Counts

Judith W. Herrman, PhD, RN, ANEF
12:30-2:00
Today's students want learning to be fun. Concurrently, educators strive to ensure that teaching is effective, current, and based on critical learning needs. This session presents fun and effective strategies designed to enhance clinical and classroom teaching and learning in nursing education.
Learning Outcomes:
Explore selected creative teaching strategies designed to enhance nursing student learning in the classroom and clinical areas.
Analyze the application of selected creative teaching strategies to personal nursing education practice.
back to menu
---
Flipping the Class or Flipping the Focus
The Future for Faculty

Tim J. Bristol, PhD, RN, CNE, ANEF
2:30-4:00
Whether you are a seasoned flipper, or just considering how to get the students to read before coming to class, this keynote address will give you the opportunity to look at teaching and learning in a whole new light. Through developing a culture of guided study, students will come prepared for situated learning. We will explore development of pre-class, classtime, and post class learning for every level of the curriculum.
Learning Outcomes:
Synthesize constructivist learning principles to connect different parts of the curriculum.
lop a flip-based learning activity for a current class, lab, or  clinical experience.
back to menu
Post-Conference (Aug. 3)
Test Item Writing — The NCLEX® Connection

Tim J. Bristol, PhD, RN, CNE, ANEF
8:00-12:00
This workshop will focus on the successful development, maintenance, and revision of test items and exams. We will explore strategies to create and revise questions for the purpose of identifying students' ability to implement safe and effective clinical judgment while providing care. Participants will practice using NCLEX®-related client needs, the nursing process, and quality and safety concepts to enhance the validity of test items. There will be introductory exploration of item analysis and test blueprints as well. Bring test items to use as practice.
back to menu
More Conference Information
Registration Deadline
Register early!
July 21, 2014 is the registration deadline. You will want to register early since conference registration and hotel rooms are limited. Also, you'll receive a discount if you register by June 15th.
Discounts Available
Group Discount
Three or more faculty registrations will qualify your group for a discount. Further discounts are available for large groups of six or more. Registrations must be mailed or registered online together with fees paid prior to conference registration deadline.
Subscriber Discount
NurseTim webinar subscribers receive a special discount! Email or call for more information – workshops@nursetim.com or 866.861.2896 opt. 2.
Early Bird Discount
Register before June 15th to receive your automatic discount.
Cancellation Policy
An administrative fee of $100 will be charged for changes to registrations (cancellations and refunds) prior to July 21. No refunds issued after July 21.
Photography/Videography
We reserve the right to photograph/record attendees for promotional use.
Vendors and Sponsorship
This conference has received support from a variety of vendors. We encourage you to visit these vendors during your breaks.
The Friday luncheon and Breakout Session 1B are sponsored by Elsevier, Inc. This sponsorship will not influence the design and scientific objectivity of any conference educational activity.
You can find more information about becoming a vendor on our exhibitor page.
check, credit card or PO

Review Order
More...




Overview

Speakers

Sessions

Agenda

Lodging / Fun

Hike for Haiti

More Info

Request Info

---

Downloads...
---