NTI Webinar Subscription...
12 full months
One low price!
...for individuals
$349 for individuals

...for departments
All full-time, part-time, adjunct, and preceptors

---
Community Health Nursing:
Strategies for Teaching Undergraduate and Graduate Nursing
View Now
Description
Objectives
Presenters
Identifying, accessing, or creating community health nursing experiences may be challenging, yet these experiences are critical for undergraduate and graduate students. Participants will learn about classroom and clinical active learning experiences to operationalize community health nursing concepts such as vulnerability, access to services, cultural diversity, and health promotion or disease prevention. These experiences assist students in learning about evidence-based practice, quality improvement, safe patient-centered care and collaborative teamwork in providing community health nursing.
Objectives
Describe community health nursing practices that have been adapted to undergraduate and graduate classroom or clinical activities in nursing programs.
Evaluate usefulness of selected classroom and clinical activities for community health nursing education.
Identify steps to implement classroom or clinical active learning strategies to operationalize community health nursing concepts.
Presenters
Sharon Guthrie, PhD, ARNP, CPNP, NCSN, RN-BC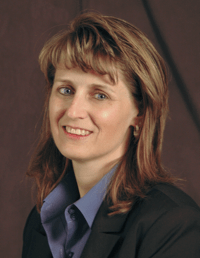 Dr. Sharon Guthrie is the Director of Graduate Nursing Programs at Mount Mercy University in Cedar Rapids, Iowa. She has been a member of the faculty since 1999 and became full time in 20107. Dr. Guthrie's experiences and leadership in school health nursing led her into policy, regulations, and laws related to health and advocacy for youth health issues. Along with many other school nurses and stakeholders in 2007, Dr. Guthrie helped champion legislation that required every school district in Iowa to hire at least one professional registered nurse (RN) into law. Since 2007, Dr. Guthrie has been involved in numerous legislative efforts related to school nursing and raising awareness that policy, regulation, and laws need input and expertise of nurses. In addition to involvement in the state public policy process, Dr. Guthrie was a member of former Senator Harkin's Nurse Advisory Committee and was one of eight nursing faculty selected by the American Association of Colleges of Nursing (AACN) to participate in the inaugural AACN Faculty Policy Intensive training.
[Sharon's other events]
FREE for subscription members or
$99.00 per login or
$159.00 departmental login
$10.00
*
Get contact hours free!
---
Contact hours are free with all new and renewing subscribers. NurseTim, Inc. offers an annual subscription service to groups and individuals. This service gives subscribers unlimited access to all our live and archived webinars.
per CE certificate
1 Contact Hour
CE Completion Criteria
Attend the entire activity.
Submit a completed evaluation tool.
Pay the processing fee (free to subscribers).
CE for this event expires on 3-31-2019. The expiration date for awarding contact
hours is 60 days after participating in the webinar.
NurseTim, Inc. is accredited as a provider of continuing nursing education by the American Nurses Credentialing Center's Commission on Accreditation.
---
http://nursetim.com/webinars/Community_Health_Nursing_Strategies_for_Undergraduate_and_Graduate_Nursing
Upcoming Events
Nuts & Bolts for Nurse Educators 2019
Aug 8-11, 2019 in Minneapolis, MN
For more information click here.
Recent Events
Flipping the Classroom with Active Learning
Nov 16, 2018 in Phoenix, AZ
For more information click here.
OLN Key Note - Next Generation Learning
Nov 2, 2018 in Columbus, OH
For more information click here.