Sharon Guthrie, PhD, ARNP, CPNP, NCSN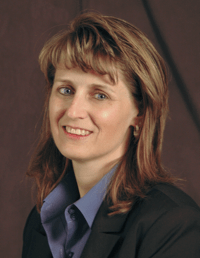 Sharon is an Assistant Professor with experience teaching undergraduate population-based nursing course and graduate level courses related to professional role and skill development, health promotion and disease prevention, health advocacy, and population-based assessment, policy development, and assurance of programs. Her background and experience as a pediatric staff nurse, pediatric nurse practitioner and nationally certified school nurse provide the foundation for her expertise. She has served in leadership roles for the Iowa School Nurse Organization, Iowa Association of Nurse Practitioners, Iowa Nurses Association, and Midwest Dairy Health and Wellness Advisory Council. She has served as a member on several National Association of School Nurse task forces, was chair of the 2005 Healthy Children's Task Force in Iowa, and appointed as a Commissioner for Lt. Governor Patty Judge's Commission on Wellness and Healthy Living.

Sharon has co-taught a population-based senior level nursing course at Mount Mercy University for several years and developed the Medication Reconciliation Simulation experience. The Medical Reconciliation Simulation is an innovative and inexpensive learning experience to expose students to the unique community health setting of a client's home and the critical need to reconcile client medications at various and numerous points in the care of clients.

Sharon's areas on interest include school nursing documentation, standardized nursing languages, population-based care, health promotion and disease prevention in populations, innovation, informatics, and use of technology in health care.
Events by Sharon Guthrie, PhD, ARNP, CPNP, NCSN
---
---