Constance H Miller, MSN, RN, CNE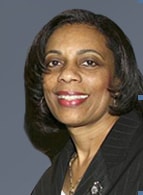 Constance Harvey Miller received her DNP from the University of Miami and both Baccalaureate and Master's degrees in Nursing from Barry University. She became a fulltime faculty member at Miami Dade College in 1988, and is currently an Associate Professor Senior in the School of Nursing, and is also a Certified Nurse Educator.
Prior to deciding to go into academia, Constance's experiences in nursing included home health, quality assurance, and multiple intensive care settings (adults, pediatrics, and neonatal). She co-developed and performance tests the RN-BSN students utilizing the Human Patient Simulator. She is actively involved in service learning activities throughout the college and is a union representative for the faculty. Constance is a member of several professional organizations and is currently the Financial Secretary for Black Nurses Association, Inc. - Miami Chapter. Constance received a Community Service Certificate from the Miami-Dade Health Department in 2008 and the Florida statewide Campus Compact 2010 Community Engagement Educator Award. She was nominated for the March of Dimes 2011 Nurse of the Year Clinical & Academic Education Award. In 2012 Constance received the Florida Nurses Association Community Action Award, a Certificate of Application from the Florida Marlins and Recognition from Online Schools as one of Florida's Top 25 Professors in Florida.
Events by Constance H Miller, MSN, RN, CNE
---
This presenter does not have any active webinars. However, if you visit our catalog you will find plenty of options by other great presenters.
---