Ann Nielsen, PhD, RN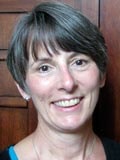 Ann Nielsen, PhD, RN has been on the faculty at Oregon Health and Science University (OHSU) School of Nursing, Portland Campus, since 2001. Her clinical and teaching specialties include neonatal, pediatric, and perinatal nursing care. Most recently, she has taught in the Integrative Practicum (senior capstone) and Leadership courses in the curriculum developed by the Oregon Consortium for Nursing Education (OCNE). She teaches various pediatric and perinatal specialty content in courses in the integrated OCNE curriculum, as well. Dr. Nielsen is currently the Director of the Undergraduate Program on the Portland Campus of OHSU.

Dr. Nielsen's scholarly interests include curricular and clinical education design, concept-based learning in the clinical environment, use of reflection in student clinical learning, and educational assessment and evaluation. She has published and presented on the topics of clinical judgment and its development in nursing students, teaching in the OCNE Clinical Education Model, use of reflection in clinical nursing education, use of concept-based learning activities, and providing student feedback using rubrics. Her research focus is on clinical nursing education strategies.
Events by Ann Nielsen, PhD, RN
---
---