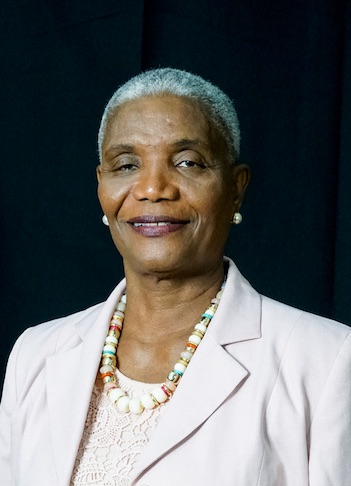 Hilda Alcindor, PhD(h), RN, FAAN
Dean of the Faculté des Sciences Infirmières de l'Université Episcopale d'Haïti (FSIL)
Hilda Alcindor was born and educated in Haiti and is fluent in four languages. She graduated as a registered nurse from the École Nationale d'Infirmières (National School of Nursing) in Port-au-Prince, Haiti. She received a BA in Health Services Administration and multiple certifications, including quality assurance, case management, and education, and was conferred an honorary degree of "Docteur Honoris Causa" in nursing sciences.

As an RN, Ms. Alcindor worked internationally for over 40 years in several positions, including home health, critical care, emergency department, administration, and school health. Committed to the profession of nursing, she is an active member of the American Nurses Association, Black Nurses Association, Association des Infirmières Licenciées d'Haiti, and the Haitian-American Nurses Association.

In October 2004, Ms. Alcindor was appointed founding dean (doyenne) of Faculté des Sciences Infirmières de l'Université Episcopale d'Haïti (School of Nursing of the Episcopal University of Haiti), the first four-year baccalaureate school of nursing in Haiti. Since its inception, FSIL has had six graduating classes (82 BSNs). These graduates are known internationally for excellence in nursing and leadership. In the aftermath of the 2010 earthquake, Ms. Alcindor and her students coordinated thousands of international volunteers to meet the needs of over 16,000 victims. Currently, they provide healthcare to over 5,000 patients a year. They specialize in serving some of the poorest people in Haiti.

Her commitment to leadership has included numerous articles, mentoring, speaking, and oversight of $16 million USD in economic and healthcare growth in Haiti. In October 2013, she was inducted as fellow of the American Academy of Nurses. She is only the second Haitian nurse to receive this honor.